Spanish Made Easy and Practical For Filipinos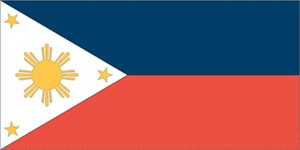 Philippine National Flag
(Bandera de la Republica Filipinas)
Spanish Made Easy and Practical For Filipinos
There are specific practical reasons for learning the Spanish language. The increasing number of Filipinos who are living and working in Spain, and South America have to learn how to communicate in Spanish. Various estimates put the number of Filipinos in Spain at anywhere from 50,000 to 200,000 Filipinos with thousands more in the countries of Latin South and Central America.

The United States of America is home to about 2,000,000 Filipinos as well as about 35,000,000 people from the various Spanish-speaking countries. It is predicted that in the coming decades, the number of Spanish speakers in the United States will increase to over 50,000,000. In fact, as you are reading this right now, a lot of government offices in the United States at the local, state, and federal level require an increasing number of job positions to be filled by someone who is bilingual or multilingual specifically one who speaks Spanish. In addition, an increasing number of private companies in the United States give preference to the hiring of bilingual or Spanish speaking employees specifically in jobs that require interaction with spanish speaking customers. If you are planning to work or immigrate to the United States, Spain or South America, it makes practical sense to learn Spanish.

Even in the Philippines, fluency in Spanish will help you in certain areas or industries. The Philippine tourism industry is catering to an increasing number of tourists from Spain, and South America. In the year 2001, there were about 8,000 tourists or visitors from Spain. If you are or planning to be a tourist guide, duty free shop employee, airline flight stewardess, waiter,waitress, taxi cab driver, scuba diving instructior, hotel receptionist,restaurant employee, bank employee or any occupation that caters to tourists, it makes practical sense to be able to speak Spanish. If you are going to work for a Spanish owned company based in the Philippines or if you are an exporter, importer, salesman, buyer or businessman planning to buy, and sell to the World's 358 million Spanish speakers in Spain, South America, and Africa, a knowledge of Spanish would obviously be helpful. Lastly, if you are planning to pursue a career with the Philippine government as a translator or as an employee with the various Philippine embassies in the Spain and South America, a knowledge of Spanish will come handy and useful.

There are also cultural and historical reasons for learning Spanish, that will help in your search for your identity as a Filipino. Both Spain and Mexico including Central and South America left a lasting and profound influence on Filipino language, culture, Martial Arts, Food , history, Sports , Music , Dances, Visual arts, Architecture, Literature , Business, and Religion. If you have not yet noticed the obvious by now, your first and last name is probably of Spanish origin such as Antonio de la Cruz or Maria Castillo. You were most likely born in a Philippine town, city or province with a Spanish name such as La Union, Misamis Occidental or Puerto Princesa. A fair amount of the streets or "calles" of your city or town, the vegetables, fruits and objects around you are also in Spanish. The months, days of the week of your calendar and the counting of numbers are usually in Spanish too. You enjoy fiestas such as the "Senyor Santo Ninyo" fiesta de Cebu, and the "La Naval de Manila" Fiesta; dancing to Cha-Cha and Mambo; and listening to Spanish singers such as Julio Iglesias, Ricky Martin, and Jennifer Lopez. Your religion is most likely a legacy of Spain directly or indirectly including Roman Catholic, Iglesia Ni Cristo, Aglipayan Church, Iglesia Filipina Independiente and other Christian religions. It may surprise you to know that the Filipino dialect you speak specially the Visaya, and Tagalog dialects contain not five, not ten, not fifty, not one hundred, but thousands of words that are of Spanish origin.Yes indeed, there are thousands of words in the Filipino dialects that have a Spanish origin.In fact one author estimates that there are 5,210 Spanish words, 70 Latin words, and 20 Mexican words in the various Filipino dialects that comprise the Filipino language. In fact, the noted Spanish linguist, Don Antonio Quilis estimates that the two major Filipino languages, Visaya and Tagalog, each have a 20% Spanish content while other sources including the Spanish newspaper "El Pais" estimates the Spanish word content of Visayas and Tagalog at 25% . These adopted Spanish words in the Filipino languages are also known as "Hispanismos". In addition to the Hispanismos in the Filipino dialects, it should also be mentioned that there exists a flourishing Creole Spanish dialect popularly known as "Chabacano" in three areas of the Philippines.

The primary aim of this website is not to make you an excellent Spanish speaker, but to at least get yourself understood in a basic manner when you are talking with most Spanish speakers. It is not the intention of this article to convince you to replace any of the Filipino dialects or English with Spanish. It is also not the intention of this article to make you feel elite or snobbish with your knowledge of Spanish for no language is elite or better than other languages. It should be remembered that all languages or dialects have their own inherent strengths and beauty. Rather, this article simply tries to help you become a multilingual speaker like the Filipino national hero, Dr. Jose Rizal by enabling you to speak Spanish in addition to your Filipino dialects and English which most Filipinos already speak. The ability to speak in a variety of languages and dialects or to be a multilingual speaker empowers and enables you to be flexible and useful in conversations and in your job. Do not worry about the grammar of Spanish for now. Most Spaniards or Spanish speakers will actually be happy or flattered that you are trying to speak or learn the Spanish language. If anyone ever ridicules or makes fun of your Spanish grammar simply ignore or do not let the person bother you for he is most likely an ill-mannered person. The important thing is to get yourself understood. How are you going to have instant basic or "survival" Spanish in an hour or less? It is very easy, just go through the following list of Filipino words that are of Spanish origin, and try to remember or take note of the words in these list. Through a combination of remembering this Filipino-Spanish word list(Hispanismos), use of sign language or gesturing with your hands you should be able to get yourself understood by most Spanish speakers. As far as making yourself understood in Spanish, it is actually better in certain respects to have a knowledge of several thousand Spanish words even if your Spanish grammar is limited than a person whose Spanish grammar is good, but whose Spanish vocabulary is very limited simply because a good command of grammar is useless if one is at a loss of words or vocabulary to express what you want to say. This where Filipinos have an advantage even over High School or college level Spanish students from non-Hispanic countries because Filipinos already have thousands of Spanish words in their dialects. It is just a matter of knowing, and remembering the thousands of Hispanismos that Filipinos use in their native languages.

You can also increase your Spanish vocabulary and grammar by reading some tips on Spanish grammar later on in this article or by browsing on the internet to some Spanish language websites dedicated to Filipinos that you will also find listed at the end of this article. A secondary aim of this article is to preserve, collect , and promote the use of 'Hispanismos' in the Filipino dialects because they are an important part of our Filipino dialects, culture, and identity. Hopefully, Filipinos in prominent positions such as news reporters, talk show hosts, radio announcers, radio Deejays, politicians,officials, priests, bishops actors, actresses,military officers,and businessmen can help preserve,and promote the use of Hispanismos in the Filipino dialects by simply using these Hispanismos in their speeches, conversations and jobs. In turn, the average Filipino will also use and help preserve these Hispanismos due to the continuous repetition, and use of this Hispanismos on television, radio, newspapers, speeches, meetings, conversations and church masses.

The list of Filipino words with Spanish origin or Hispanismos is an ongoing project and will be continuously updated. Another list shows Filipino expressions and adjectives that are of Spanish origin. We welcome speakers of all Filipino dialects to contribute Hispanismos they know of. As you can see by now, you have just acquired an instant vocabulary of several thousand Spanish words by simply being aware or remembering this list of Hispanismos or Filipino words with Spanish origins! Easy isn't it? Through a combination of remembering this Filipino-Spanish word list(Hispanismos), and using sign language or gesturing with your hands you should be able to get yourself understood by most Spanish speakers.

The next section lists some really basic Spanish grammar and words to get you started. If you have already mastered this Spanish grammar section,and would like to know more, just simply browse through any Spanish grammar book or Spanish dictionary that you can get at any nearby bookstore or library. At the end of this article, you will also find a list of spanish language websites dedicated to Filipinos.

This Spanish Grammar section was kept as brief or short as possible so as not to confuse or intimidate the beginner user of Spanish. However, this grammar section will be updated or revised with more practical or useful Spanish grammar as time permits.

Some Spanish language internet websites dedicated to Filipinos:

Crusade for the Spanish Language in the Philippines

Some websites of the Chavacano(Creole Spanish) cities of Zamboanga and Cavite

A Chabacano(Creole Spanish) language website of a Spaniard

Instituto Cervantes of Manila, a Spanish Government language school for Filipinos

Revista Filipina, a Filipino literature magazine in Spanish

A Filipino's dedication to the Spanish language

A Spaniard in Manila and his thoughts on the Philippines

Pictorial History of Manila for the time period 1571-1898 by the Spanish Government agency "Centro de Estudios Historicos de Obras Publicos y Urbanismo" de Madrid"

The Situation of Spanish in the Philippines today, and Other Hispano-Filipino articles

The Philippines during the last ten(10) years of the Spanish colonial era (The Philippines during the 1890s)

Spanish Radio and Television Stations in the Philippines

Philippine Universities and the Spanish Government Cultural Cooperation Program

A Filipino writer of poems in the Spanish language

A Filipino parish based in Barcelona, Spain

Philippine Postage stamps during the Spanish era

The Spanish era city of Vigan in the Northern Philippines

Circulo Hispano-Filipino, a Filipino-Spanish Group

Old Spanish Forts and Fortifications in the Philippines

Old Spanish lighthouses in the Philippines

There is also an internet discussion group that promotes Spanish in the Philippines. The members of this group do not only include Filipinos but also members from the Germany, Mexico,United States,Spain, Uruguay, Venezuela, Argentina, Chile, Peru and other countries. In fact the Hispano-Filipino members who are non-Filipino are among the most enthusiastic champions of promoting Spanish in the Philippines.You do not need to know or be fluent in Spanish to join this group because the Hispano-Filipino group is not primarily a Spanish grammar or linguistics group, rather it is more of a special interest group that promotes the use of Spanish in the Philippines. Members of this group regularly discuss issues in English, Filipino dialects as well as Spanish. To join this group, just send an email to the following address:

hispanofilipino-subscribe@yahoogroups.com

We will also come up later with a different more advanced pamphlet that discusses Basic Spanish Grammar in more detail for those who desire to learn more about the Spanish language. Preferably, a professor or teacher of Spanish will be in charge of this other more formal Spanish grammar pamphlet, any volunteers? Note however, that the material here should already enable you to survive in a Spanish-speaking country or get yourself understood in a very basic manner when you are talking with a Spanish speaker. Do not forget to read the "Hispanismo" list over and over again in order to refresh your memory with the list of Filipino words that are of Spanish origin.


Written by:
Antonio G. Faustino II
frosty781@hotmail.com
Grupo Hispano-Filipino

For comments or questions you may send electronic mail to- Antonio Banderas .Si usted tiene preguntas o comentarios, por favor enviarlas.

NOTE: The background music you hear is the Spanish Bullfight music "Espanya Cani", also used for dancing the spanish "Paso Doble" which is popular in Philippine rural towns and cities during fiestas.